My opponent, Buelna, the 'on-line professor' faces a $24.8 million lawsuit for cost overuns -- cost overruns enriching consultants and corporations supporting him on the Board of Trustees.
"Fraud, corruption, and racketeering!"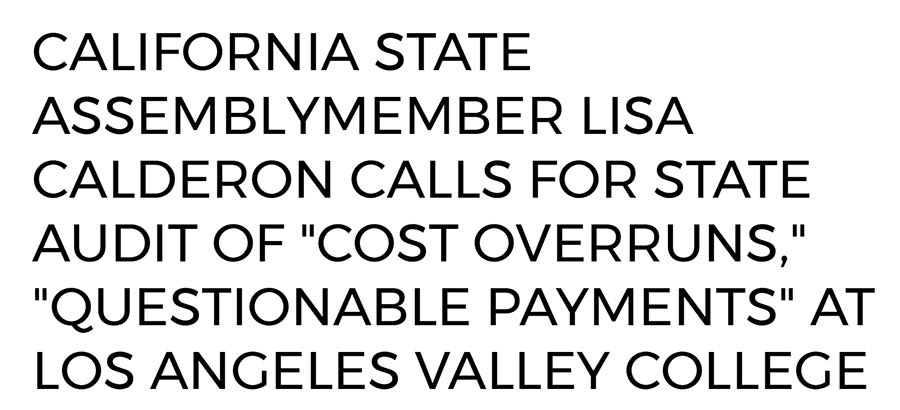 RACKETEER INFLUENCED AND CORRUPT ORGANIZATIONS ACT
LOS ANGELES COMMUNITY COLLEGE DISTRICT, an agency organized and existing pursuant to the laws of the State of California;
Defendants
GABRIEL BUELNA, an individual;
STEVEN F. VERES, an individual;
ERNEST H. MORENO, an individual.
KELSEY K. IINO, an individual;
DAVID VELA, an individual;
NICHELLE HENDERSON, an individual;
ANDRA HOFFMAN, an individual;
Case No.: 2:22-cv-06183-MEMF-PLA FIRST AMENDED COMPLAINT FOR:
1. TAXPAYER ACTION FOR BREACH OF FIDUCIARY DUTY AGAINST RACKETEERS;
2. VIOLATION OF THE RACKETEER INFLUENCED AND CORRUPT ORGANIZATIONS ACT [18 U.S.C.A. §1961 et seq.] AGAINST RACKETEERS;
GENERAL ALLEGATIONS
This complaint will demonstrate fraud, corruption, and racketeering conduct in the construction of a public performing and media arts center meant to service a vital local community college. The complaint will allege a corrupt scheme by a number of consultants to delay the construction of this public project for the sole purpose of increasing the fees that they could charge the taxpayers of California. These consultants who must be brought to justice and held accountable. This is behavior that should concern not just this court, but the California State Legislature and California Attorney General as well.
Buelna, Veres, Moreno with Trump -- like Trump, they want to rip off public funds.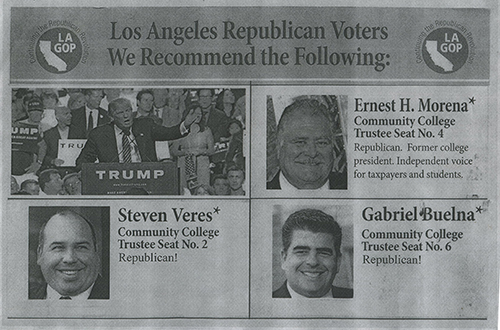 The Administration and Faculty spent one million dollars to on the campaign to elect him. One million dollars.
And as Trustee on the Board, he oversaw a twenty million dollar disaster on the Los Angeles Valley College theater complex.
Why? One million dollars to put a part-time professor of Chicano Studies into $24,000-a-year position as a part-time Trustee? He oversaw a multi-million disaster. And the faculty and administation support him for re-election. Why?
(And why did his good friend Kevin De Leon want him on the Board of Trustees?)
Buelna votes on their contracts of the Faculty, Administration, and Staff -- salaries, benefits, all of it. They spent a million dollars to elect him, he will approve their demands. Think of it as an investment. Their contracts will run for years. They will get millions of dollars in returns on the investment in Buelna.
They want higher salaries, more benefits, fewer classes, no oversight of academic rigor, no expectations of innovation -- the tenured, retired-in-place faculty want their contracts rubber-stamped without questions.
And they want no changes in the salaries and benefits of the part-time adjuncts who actually teach more than 70% of the classes. The State of California funds the colleges based on enrollment, the part-timers work the courses for wages and no health care or retirement, and the faculty and administration get the high pay, full benefits, generous retirements. They even get an $1,800 medical debit card for 'other medical expenses.' Such as their dog or cat or parakeet.
Buelna will vote as they tell him -- or he's a part-time 'online professor' again.
In only the first six months of this year on the Los Angeles Community College Board of Trustees, Buelna exploited the position to gather campaign contributions from contractors, unions, consultants, public relations --
Jacobs / oversees all construction on colleges --- $10,000
Cordoba, Inc. / construction ------------------------ $5,000
Pacific Services / internet consulting -------------- $5,000
UA Local #250 / air-conditioning ------------------- $2,500
Operating Engineers --------------------------------- $1,500
CRCD Enterprise / construction --------------------- $1,000
Rodolfo Ruiz / attorney ------------------------------ $1,000
Rick Taylor / consultant ----------------------------- $1,000
Upward Solutions / public relations ---------------- $1,000
These are only the companies and individuals who contributed the most to the political future of the part-time Trustee Buelna.
The list does not include many companies and other individuals who contributed smaller amounts. So far, in total, six months, $33,7000.
And he did receive money from his good friend, Kevin De Leon.
And the six month total does not include the money the tenured faculty and the administration will dump on Buelna. One million dollars, as in 2017?
You have a choice:
Support an incumbent who uses his position to accumulate funding to advance his political career.
Or:
Support me, Robert Payne, and vote for an independent voice not corrupted by the faculty political regime.
I have world experience. I know what confronts students. I will not use the position to get a ticket to Sacramento. I will work only for the students, the innovative faculty, and staff, the District, and the community.
©